Our company offers a variety of aggregates comprised of the hardest and most durable materials in the region. Our materials have consistently passed comprehensive State DOT and ASTM testing. We sell only the finest products to be used for the construction of Bridges, Highways, Roads, Hospitals, Shopping Centers, Equestrian Arenas, Driveways, Drainage Systems, Septic Systems, Retaining Walls, and your Home.
HOURS OF OPERATION 
    Monday: 7:00 AM - 4:00 PM
    Tuesday: 7:00 AM - 4:00 PM
Wednesday: 7:00 AM - 4:00 PM
    Thursday: 7:00 AM - 4:00 PM
          Friday: 7:00 AM - 4:00 PM
                         Saturday: 7:00 AM - 12:00 PM                             Sunday:
CLOSED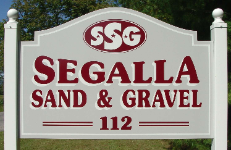 CONTACT US
We invite you to browse our web site and contact us regarding our products and services.
Address:
 112 Allyndale Road, North Canaan, CT 06018
Phone:
 (860) - 824 - 4444